Unique collaboration wins at EUROSAC Grand Prix: sustainable bag based on sugar beet pulp
A paper bag that is strong, food safe, recyclable, compostable and both offset and flexo printable. Due to a unique synergy in the value chain, five partners have created this sustainable and innovative solution. The icing on the cake: winning two prizes at the EUROSAC Grand Prix 2022: Bronze and Public Choice Award!
Crown Van Gelder is constantly exploring ways to produce paper more sustainably. One of the methods to do this is to replace wood fiber by alternative fiber, such as sugar beet pulp – a result of Cosun Beet Company's sugar production. Together, Cosun Beet Company, Novidon (also a Cosun company) and Crown Van Gelder developed the sustainable Crown Native sugar beet paper, which was then printed and made into bags by Fiorini and used by DLF. For this unique effort, the collaboration was awarded with the EUROSAC Grand Prix 2022.
Value and sustainability
Grass seed producer and brand owner DLF was looking for a more sustainable, paper-based alternative for its 15 KG bag to reduce the company's environmental impact, the search led them to Crown Van Gelder. Together with DLF's bag producer Fiorini, Cosun Beet Company and Novidon developed an open mouth bag consisting of three layers of Crown Native paper and using paper sack glue Novinexx CPB from Novidon. Each partner adds value in every step of the chain, while lowering the environmental impact at the same time. With Dutch sugar beet fibers, an 80% lower environmental impact can be achieved, compared to wood fiber, since sugar beets grow locally and faster than trees. Adding 20% sugar beet fiber to the paper gives a 16% lower ecological footprint of the paper – as confirmed by an independent life cycle analysis. Johan Monfrooij, Supply Chain manager for DLF Benelux: "Sustainability is an important topic for DLF. Our core business: grass, is in itself a very sustainable natural product that contributes in making the world more sustainable in many different ways. Being part of this special innovative chain of partners, made it possible to use this even more eco-friendly paper for our bags. By using this new type of paper, we are making the world a bit more green."
Creating value by circularity
Andries Olie, manager Sustainability at Royal Cosun: "I am proud to see how good cooperation with our partners led to the successful development and use of this eco-friendly bag. This plant-based innovation fits perfectly in our Cosun strategy 'Unlock25', in which we want to unlock the full potential of our plants." Tom Brooijmans, director at Novidon, adds: "Novidon has years of experience in developing sustainable products, like Novinexx CPB, for the paper  and packaging industry. Pulp4Paper fits in our strategy to create more value of side-stream materials and together with our value chain partners, we are eager to help implementing sugar beet pulp into the paper packaging production process."
Recyclable and eco-friendly
Giovanni Fiorini, president and CEO of Fiorini, also agrees that it's important to work on sustainable products. "Fiorini cares about the environment: that is why it always creates innovative, resistant and eco-friendly paper sacks. Our aim for the future is to produce only plastic free bags, completely recyclable, with alternative raw materials, an amazing print and a strong protection for the product inside. As we did for our MoistShield®. Being part of an increasingly responsible production chain is a fundamental base for us to reduce our impact on the planet."
Proud partners
The EUROSAC Grand Prix 2022 prizes are the icing on the cake for all participating companies. Jan Rops, Crown Van Gelder: "With our value chain partners, using our new Crown Native sugar beet paper for packaging, we are changing the world of paper."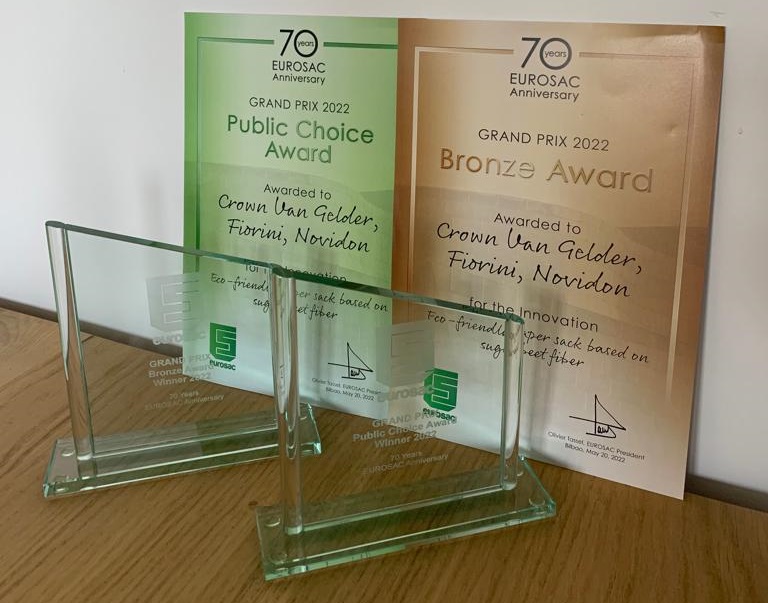 Fiorini_Innovation with Value Chain Partners_Eurosac Grand Prix Award 2022 from Fiorini Packaging on Vimeo.
https://www.fiorini.biz/wp-content/uploads/2022/05/Fiorini-Eurosac.jpg
630
1500
silvia
https://www.fiorini.biz/wp-content/uploads/2022/10/Fiorini-2022.png
silvia
2022-06-23 10:39:12
2023-07-17 13:07:19
Gran Prix EUROSAC 2022